Tony Loft-Home of excellence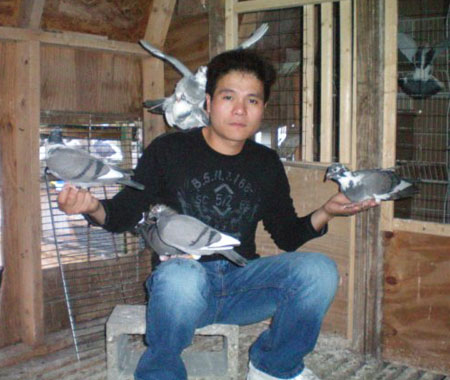 Tony loft is a breeding-oriented loft located in North Dinwiddie Virginia which produces many excellent performance and purebred homing pigeons. We at Tony loft can find many varieties or families, such as Fieneke 5000, Sure Bet, De Rauw Sablon, Kannibaal/Klein Dirk, Super73, Mona Lisa, Gaby Vandenabeele, Meuleman, Gordons, Huysken Van Riels, Ludo Claessens and many many more. Not only can we source well bred, nice handling birds, but also prominent potential breeders.
---
Raising quality breeders for racing fanciers is the main goal of Tony Loft, and is our priority.
The owner, Tony has bred pigeons since 1990 and believes that the breeding of pigeons is an important part of his life. After raising pigeons in this period of time and receiving extremely positive results from pigeons fanciers all over the world who have acquired his stock, Tony strongly feels it is more rewarding to give rather than receive. With this principle in mind, he decided to concentrate on breeding quality stock and always making it available. Tony lofts spares no expense in purchasing the breeding stock necessary to produce quality offspring. As an old saying goes, you can not make bricks without straw, and Tony follows this saying by purchasing the best available birds in order to provide great breeding stock to other fanciers.
In recent years, many of our pigeon friends not only locally but also internationally, especially China and Taiwan, have reported great racing results to Tony which is a very uplifting and inspiring. The results of Tony Loft bred birds are great under any circumstance and distance. If you want to become the next winner, then Tony loft is here for you.
Please contact us if you need any help.